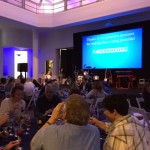 Over 100 supporters and sponsors of Able Flight joined eight returning pilots in Houston on May 29th to celebrate another year of success and to raise funds for new scholarships. The event was held in the historic 1940 Air Terminal Museum located on Houston's Hobby Airport. Attending were Able Flight pilots Jessica Scharle,  Eric Ingram, Curtis Stanley, Jeremy Maddox, Jason Jernigan, Dennis Akins, Ryan Kelly, and Sean O'Donnell.
Also on hand were guests from sponsors Tempest, ForeFlight, and Shell Aviation; each was recognized at the event for their three-year commitment to funding scholarships. Other guests included Sebastian Heintz of Zenith Aircraft, Desiree Czaplinski of Aircraft Spruce, Ben Sclair of General Aviation News, and Julia Spicer and Steve Merritt from Able Flight's Board of Directors.
Following time to mingle and explore the museum, guests were treated to dinner before a spirited auction in which all items were sold to benefit the scholarship program. Able Flight would like to thank the following for their generous gifts for the auction:  Mimi Stewart, Shell Aviation, Patty Wagstaff, Kevin and Angie Tipton, Landmark Aviation, Sennheiser, ForeFlight, Sam Lyons Studios, mypilotstore.com,  Jim Benton of Houston, Dynon,  Abingdon Co., Aircraft Spruce,  and Gulf Coast Avionics.  The Paul Thorn Band performed after the auction, bringing the special evening to a close.
The benefit was fully sponsored by Sennheiser USA, Landmark Aviation, and Universal Weather & Aviation, so that all proceeds from the auction and donations could go directly to the scholarship program. Auction proceeds and donations set a record of just over $50,000. Our thanks to everyone who made our 2015 benefit such a success.