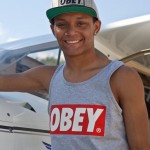 For the past two years, Tyrell Rhodes faced cancer with a determination and an optimism that were typical of the young man who had been diagnosed with Cerebral Palsy when he was only two. In the early hours of September 4th, and with family by his side, Ty passed away at age 21. Though we announce this loss with great sadness, what we choose to remember was not the struggle he endured with little complaint, but instead his joy in becoming a licensed pilot through Able Flight.
Ty was the perfect example of someone who lived his dream by earning the right to experience the freedom of flight. He was a member of our Class of 2012 which trained at Purdue, and later, Able Flight continued to support his plan of a lifetime in aviation with scholarships to support his college training in aviation studies.  In his memory, Able Flight is creating the Tyrell Rhodes Memorial Scholarship to be funded through private donations.
We ask for your support by making a donation of any amount in his name. With your help, the legacy of this remarkable young man will live on, allowing others to face their own challenges and become a pilot.
To support the Tyrell Rhodes Memorial Scholarship please donate here.
And to learn more about Ty, including what this meant to him in his own words, visit here.