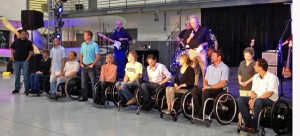 It was the largest group of Able Flight pilots ever assembled, and April 20th was their night to be celebrated and honored at Able Flight's annual benefit party.  From throughout the Eastern U.S.  twelve of Able Flight's 28 pilots  traveled to Orlando where they were the guests of honor at an event at Fantasy of Flight that both recognized their success, and  raised funds for the scholarship program. Attending were Jessica Scharle. Jorge Urea, Jeremy Maddox, Tony Pizzifred, Wesley Major, Heather Schultz, Sean O'Donnell, Jason Jernigan, Kevin Crombie, Tyrell Rhodes, Matt Sponaugle and Stephany Glassing.
Some of the early arrivals were treated to a private tour and simulator time at SimCom's Orlando facility, arranged by Able Flight supporter Jeffrey Goldberg and courtesy of SimCom.  Just prior to the party, guests were given an after-hours tour of many of  the historic aircraft in Kermit Week's collection. Then, with two beautiful P-51s, an Albatross and a Sopwith Snipe decorating the hangar, the party began with dinner and introductions of the pilots and special guests followed by music from the Paul Thorn Band.
The benefit was made possible with the generous support of sponsors Sennheiser U.S.A, Embraer Aircraft and Signature Flight Support. The event sponsors underwrote all costs,  making it possible  for proceeds from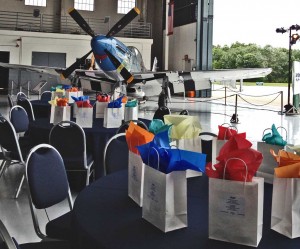 donations for seats and an auction to go directly to the scholarship fund. Signature Flight Support also served as the host FBO for the party at its Kissimmee location,  waiving ground charges and providing discounted fuel for arriving guests.
Guests included  Matt Brandon of Bombardier, David Armstrong of Embraer, David Dunlap, Chris Throndsen, Christain Pulm and Tim Mell of Sennheiser,  Patrick Sniffen of Signature Flight Support,  Katie Pribyl, Adam Smith and Stephany Keynon of AOPA,  Mike Suckow of Purdue University, Gene Schmidt of Schmidt Consulting, Bill Perrone Sr. and Bill Perrone, Jr. of Perrone Aerospace, John "Lites" Leenhouts, president of Sun 'n Fun, Tom Bliss, publisher of AVweb, airshow greats Steve & Suzanne Oliver,  Andy Matthews of iFlightplanner.com, and Able Flight board members Steve Merritt and Julia Spicer.
A live auction included items donated  by Sennheiser, Perrone Aerospace, ForeFlight, Bombardier, Signature Flight Support, Sandia Aerospace, Dynon, Sam Lyons,  Kermit Weeks and Team Aerostars. A special thanks to Bill Campbell of Atlanta for bringing five Able Flight pilots to the event in his Cessna 421, and to Jeffrey Goldberg of Chicago for bringing Able Flight pilot Tyrell Rhodes in his TBM 850. And thanks to Gina Hubbard and Scott Dickie  and the rest of the Fantasy of Flight team and Tom Pittman of American Audio Visual for their help in making the evening a success. Most of all, thanks to everyone who came to honor our pilots and make it possible for others to join them in the freedom of flight.