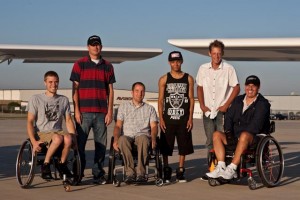 Join Able Flight pilots and special guests all for a great cause at our second annual benefit party on Saturday, April 20th!
It will be a night of great music, food and fun at the incredible Fantasy of Flight near Orlando, FL.  Celebrate  the success of our newest pilots including wounded veterans while surrounded by some of the world's rarest flying aircraft. You'll meet some of the most inspiring people in aviation  while listening to the amazing Paul Thorn Band (just ask anyone who came to last year's party!), and you could be seated just a few feet away from a Red Tail P-51!
With the generous support of sponsors Sennheiser, Embraer Aircraft and Signature Flight Support, all expenses for the party are paid, so your donation for a table or a seat will go directly to the scholarship fund!  This is a true party, so don't expect an evening of speeches and awards. Dress is very causal, and it's a night to have fun while making it possible for Able Flight to bring even more people into aviation.
Individual seats are available for a $500 donation to the scholarship fund, and tables of ten are available for a donation of $4000.
For  information on how to reserve your seat, visit here.
Thanks to our party sponsors for making this special night possible!