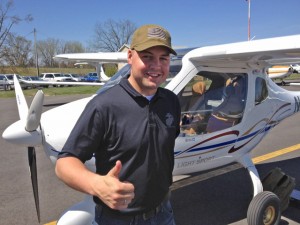 Most pilots look at Adam Kisielewski and can't help but wonder how they would deal with flying an airplane without an arm on their left side and with a prosthetic leg below the knee on their right. But Adam leaves the wondering to others and just goes about his life with the thoughtful and quiet determination he has shown since being critically injured in Iraq in August of 2005. Somehow he survived the blast that occurred when he attempted to pass though a door rigged with hidden explosives; a blast that took the life of a fellow Marine.
To say that his survival and recovery have been remarkable is to sell Adam short. With extraordinary battlefield emergency medicine and intensive post-injury rehabilitation, many wounded veterans have survived and recovered. It's just that Adam is a special case. Undaunted by the magnitude of his injuries, he worked his way through rehab, declined the use of a prosthetic arm that would have to be attached at the shoulder, and found his own adaptations. The father of a young son can now often be seen riding his unmodified Harley, and has fulfilled a dream that began when he was a teenager. On April 19th, Adam become a licensed pilot.
With his Able Flight Scholarship Adam trained at  the busy Frederick, Maryland airport, mixing in with near constant helicopter and fixed wing traffic. And for the Marine who once served on the presidential security detail at nearby Camp David, the importance of  never losing situational awareness in the airspace around Washington, DC added another layer of complexity to his training.
Adam credits his instructors Dean Stickell, a retired Air Force test pilot, and Dave Hirschman, Senior Editor of AOPA PILOT Magazine with giving him the skills and confidence to work through the challenges of learning to fly using only one hand and adjusting to  the limited feedback provided by a prosthetic leg. As humble as he is in thanking them, Stickell and Hirschman are quick to praise his creativity in working around what others might see as limitations. The evidence of that came during his check ride; a check ride preceded by several months of training in a Flight Design CT.
Most Able Flight pilots now learn to fly in a joint Purdue University/Able Flight program in the spring of each year, but Adam needed to remain close to his Operation Second Chance office  to continue his work helping other wounded veterans. So Able Flight located a CT based at Northampton Aeronautics in Massachusetts, and with the assistance of flight school manager Rich MacIsaac and CT owner Joe D' Aguair, arranged for the CT to "live" at Frederick during late winter/early spring so that Adam could fly an average of 3-5 times a week. That training paid off  with an unusually long student cross country to deliver the CT back to  its home where Adam would take his check ride to become Able Flight's 20th licensed pilot to date.
For an indepth look at that experience, read Dave Hirschman's report on Adam's check ride.