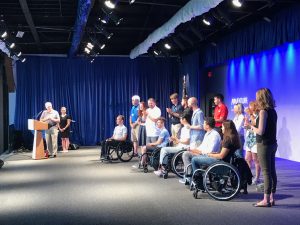 All eight members of the Class of 2017 traveled to EAA AirVenture to be honored at our annual Wings Ceremony on July 25th. On a beautiful day with friends and family present, the newest Able Flight pilots were the guests of honor at the event held for the first time at Theater In The Woods.
Receiving their pilot wings were Melissa Allensworth of California, Chris Corsi of North Carolina, Zackary Kukorlo of Washington, Brice Lott of North Carolina, Captain Ferris Butler U.S. Army (retired) of Maryland, Kathryn Brenner of Illinois, Benedict Jones of Indiana, and Kunho Kim of Massachusetts.
During the ceremony it was announced that the following 2017 pilots had been designated as recipients of scholarships honoring the support of sponsors who have made long-term commitments:
Melissa Allensworth-Bombardier, Ferris Butler-Lockheed Martin, Kunho Kim-Jet Aviation, Benedict Jones-Shell Aviation, Kathryn Brenner-ForeFlight and Brice Lott-Tempest.
Also honored at the event were co- Flight Instructors of the Year Justin Beam and Molly Van Scoy, and Volunteer of the Year Brian Stirm. The first Able Flight "Extra Effort Award" went to instructor Allison Hoffman for her work in training Zackary Kukorlo who is deaf. In addition to her duties as a flight instructor, Allison learned basic sign language to better communicate with Zackary.
Representing The Ohio State University were instructor Josh Fisher and Director of Aviation Education Brandon Mann, and from Purdue University instructors Rob Banta, and Chris Konecnik. Also recognized for their outstanding achievements for 2017 at Purdue were professor Bernie Wulle and volunteer program coordinator and Able Flight Wesley Major (Class of 2012), and lead flight instructor for Ohio State, Joe Schwerdtfeger.
Special guests included Patty Wagstaff and Able Flight sponsors Jim Irwin of Aircraft Spruce, Dodd Stretch of Airtex Interiors,  Allyssa Ten Eyck of Embraer, Tyson Weihs of ForeFlight, Dominique Christall of Bombardier, Micheal D. Brown and Paul Royko of Shell Aviation, and Arlene Kidwell Smith and John Herman of Tempest.