ABOUT US
Able Flight's mission is to offer people with disabilities a unique way to challenge themselves through flight and aviation career training, and by doing so, to gain greater self-confidence and self-reliance.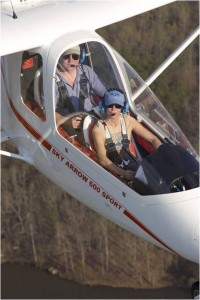 Able Flight was created by pilots who believe that the life-changing experience of learning to fly is best shared, and designed the Able Flight Scholarships to enable people with disabilities to pursue that experience.
Members of the Able Flight Board of Directors and Advisory Board include a flight instructor, an Aviation Medical Examiner, a pilot who has provided thousands of free flights to young people, a veteran who flies his own plane with the aid of a prosthetic device, and a previous scholarship recipient.
Able Flight™ is incorporated as a 501 (c) (3) nonprofit organization, and is supported by the generous donations and sponsorships of individuals, foundations and corporations.
EXECUTIVE DIRECTOR

Charles H. Stites
Charles served as the Manager of Temser, Inc., a nonprofit transitional employment corporation based in NC. He later served as a Senior Projects Manager for GTE (later Verizon) in their media production division. He was the national volunteer coordinator and NC Flag Bearer for the EAA's 50 Flags to Kitty Hawk project in 2003, and has been a writer/photographer for a number of U.S. and European aviation publications. Charles founded Able Flight in 2006 and is responsible for its operations. Charles is a licensed pilot.
BOARD OF DIRECTORS
Steve Merritt
Steve is the airport manager at the Franklin County, NC airport and previously served as a Projects Manager at the North Carolina Division of Aviation. He is also an FAA Aviation Safety Counselor and Gold Seal flight instructor. As a flight instructor, Steve coordinates and monitors the training programs at Able Flight's selected flight schools in order to accommodate the special training needs of selected students.
Al Mooney, MD
Al is an FAA Certified Aviation Medical Examiner and flight instructor. He serves as Able Flight liaison to the FAA Aeromedical Certification Branch concerning medical issues, and advises Able Flight on applicant medical issues.
Julia Spicer
Julia is the Executive Director of Mid-Atlantic Venture Association (MAVA), and previously served as Vice-President at Columbia Capital and Vice-President of GTE Corporation where she managed philanthropic efforts, including those of the GTE Corporate Foundation. Julia is a licensed pilot.
Charles Stites (see above)
ADVISORY BOARD
Matt Brandon
Matt is the Regional Marketing Director at Jetcraft Corporation. Prior to joining Jetcraft, Matt worked for over 18 years at Bombardier Aerospace where he held various positions in their Business Aircraft, Flexjet and Commercial Aviation Services divisions.
Adam Kisielewski
Adam is a Marine Corps  Sergeant (retired) who was wounded while serving  in Iraq in 2005, losing his left arm at the shoulder and his right leg below the knee.  He earned his pilot certificate  in 2012 as the recipient  of an Able Flight  Scholarship, and prior to entering Mount St. Mary's University, Adam served as Vice President of  Operation Second Chance.
Jon Kuniholm
Jon is a Marine Corps Captain (retired) who was wounded in Iraq in 2005, losing his right arm from beneath the elbow. Just prior to his deployment to Iraq, he had earned his private pilot certificate. Jon  is a graduate student in biomedical engineering, and is the President and Founder of the Open Prosthetics Project.
Sean O'Donnell
Sean is an Able Flight scholarship award recipient, and was the second recipient to earn a pilot's certificate. He was the Director of Distance Learning Education at Villanova University, and the founder of Philly Sport Pilot, a training facility for Sport Pilots, including people with disabilities. He currently serves as Vice President of eLearning and Marketing for the Uncommon Individual Foundation.  As a nationally recognized eLearning expert, his main goal at the foundation is to design and implement a world-class learning delivery system.
Bob Seidel
Bob serves as CEO of JFI Jets,  and previously served as Senior Vice President/General Manager of Jet Aviation's U.S. Charter Services. Prior to joining Jet Aviation, Bob served as a Regional Sales Director for Gulfstream Aerospace and Galaxy Aerospace. He is a graduate of the U.S. Naval Academy and holds a master's degree in Business Management from the Kellogg School at Northwestern University. He began his career in aviation as a Naval Flight Officer operating P3 Anti-Submarine Aircraft in the Pacific and Indian Oceans. Bob is a licensed pilot.
Bob Stangarone
Bob has held senior management positions at United Technologies' Pratt & Whitney and Sikorsky units, Rolls-Royce, Litton, Fairchild Dornier, Textron's Cessna Aircraft unit and Embraer. While at Cessna he founded and served as Chairman of the Wichita Aero Club, and also served as Chairman of Cessna's Environmental Strategy Council. Bob is a commercial pilot with instrument and multi-engine ratings, and is type-rated in Citation series business jets. He is a member of the Board of Directors of the National Aeronautic Association and its Collier Trophy Selection Committee, and serves on numerous industry advisory boards and committees.
Chris Throndsen
Chris  is the US National Sales Manager, General Aviation for Sennheiser Electronic Corporation. She has been with Sennheiser since 2002. Chris has trained for a private pilot certificate, soloing on August 25, 2000. She has a passion for aviation and a dedication for helping people accomplish everything that is possible for them. She understands what it is like to have challenges in everyday life as her mother lives with Parkinson's.


Able Flight  Is Proud To Have Earned The GuideStar  Silver Exchange Seal by providing comprehensive, updated information.
Able Flight™ is a 501 c (3) nonprofit founded in 2006
Federal Tax ID: 20-5001037