ABLE FLIGHT SCHOLARSHIPS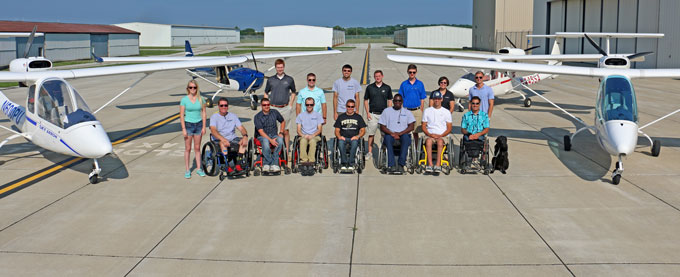 Applications submitted by December 31, 2023 will be considered for 2024 awards.

Above all, candidates must be dedicated to the idea that they, too, can change their lives by learning to fly or training for a career in aviation. Able Flight encourages people with a variety of  physical disabilities to apply for a scholarship.
Learning to fly is a demanding endeavor, with long hours of ground school study and many hours in the air. This is not a program for those who seek a "weekend adventure" experience, but a program for people who are willing to work hard and remain committed to earning the privilege of becoming a pilot.  It's not easy, in fact, it is demanding and challenging, and that's by design. We want our pilots to be safe and competent, so training goes well beyond the minimum standards required by the FAA.
Candidates for all scholarships will complete the appropriate application form, including an essay on how they feel the scholarship would change their life. Following an initial review, finalists for Full, Return to Flight or Career Training Scholarships will appear for a in-person interview to be conducted either remotely or near their home. Able Flight will then select and notify the award recipients.
 APPLICATION DEADLINE FOR A FULL FLIGHT TRAINING SCHOLARSHIP IS DECEMBER 31st.
APPLICATIONS POSTMARKED AFTER DECEMBER 31st WILL BE CONSIDERED FOR THE FOLLOWING YEAR.
THERE ARE THREE TYPES OF SCHOLARSHIPS
AND INSTRUCTIONS ARE ON THE FORMS

FULL FLIGHT TRAINING SCHOLARSHIP:
The Able Flight Flight Training Scholarship is designed for people who wish top earn a Sport Pilot certificate. It covers ground and flight training, testing, travel and lodging expenses as required. Applicants for a full scholarship must be available to travel for training for a six-to-eight week period without a break.
Training is typically mid-May  to early July.  Students must remain at the training facility throughout the entire training period with no exceptions.  Please do not apply unless you can commit to this schedule. Applicants for the Return To Flight scholarship must be available to travel for a one-to-two week training period.

An FAA medical exam is not required for Sport Pilot. However, if you have previously had an FAA medical exam and were denied, or if approval has been deferred by the FAA, you will not be considered for a  final review of  your scholarship application until your medical has been approved by the FAA.
After their selection, Able Flight Flight Training Scholarship winners will receive a complete online Sport Pilot knowledge course (ground school) which they will complete at home prior to flight training. During the intensive flight training course, students will learn to fly a Light Sport Airplane according to the FAA's Sport Pilot requirements. This challenging training program typically consists of 40 flight hours in addition to the comprehensive ground school study, and will prepare the student for flight under Sport Pilot Rules. Students who successfully complete all ground and flight training requirements and pass both the written and flight exams receive a Sport Pilot certificate.
Applicants must be able to provide proof of disability from their attending physician, be at least 17 years of age, a U.S. citizen, have a valid driver's license, and be able to operate the controls of the training aircraft. Special controls will be available as needed. Scholarship applications are accepted at any time and reviewed on a continuing basis. Training typically takes place from mid-May  to early July of each year.  Full Flight Training Scholarship Application. (PDF)
RETURN TO FLIGHT SCHOLARSHIP:
For those who have become disabled after already having earned a pilot's license, and now wish to return to flying under the Sport Pilot Rule. Return To Flight Scholarship Application (PDF)
CAREER TRAINING SCHOLARSHIP:
For those who wish to train to earn an FAA-issued Repairman Certificate (Light Sport Aircraft) with Maintenance Rating, or an FAA Dispatcher License, or  for training to qualify for a career in the use of drones for commercial purposes. At the discretion of the scholarship committee, the career training scholarship may be used for academic expenses for an aviation career.For additional detailed information on Able Flight career training Scholarships, visit here.