MEET THE SCHOLARSHIP WINNERS
Paul Brown comes from a flying family that traces its aviation roots to one of the most famous flights of all time, the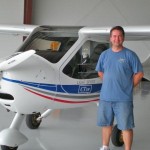 crossing of the Atlantic by Charles Lindbergh. Paul's grandfather was working as a line boy for Curtiss at Roosevelt Field on Long Island, NY when he was chosen to help prepare Lindbergh's plane when it departed on the morning of the historic flight.
Following in the family tradition, Paul was well into his flight training in 2003 when he learned that he would need surgery, radiation and chemotherapy for a large tumor that put his life and his flying dreams on hold. After his recovery, he learned of our scholarship program and applied.
During 2008, Paul completed his training in the Minneapolis area in a Flight Design CT at LSA North, and within hours of passing his checkride, departed for a trip to Oklahoma where he then earned his tailwheel endorsement in a classic Porterfield (an LSA version). He has now completed one of his goals in flying by having his father as one of his first passengers. Reports from his flight school indicate that Paul was one of their most dedicated and hard working students, and he quickly progressed through the training to earn his certificate.
Jessica Cox didn't let being born without arms keep her from meeting the challenge of earning a pilot certificate. The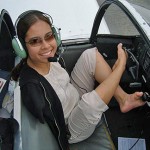 Able Flight Scholarship winner passed her checkride Friday October 10th, 2008 after several months of training with instructor Parrish Traweek in his Ercoupe 415C. With its unique control system, the Ercoupe proved to be the right airplane for her to fly using only her feet (she does not use prosthetic arms).
Of her experience in becoming a pilot, Jessica said, "I highly encourage people with disabilities to consider flying. It not only empowers you but also helps others realize that people with disabilities are adept at attaining privileges that a small percentage of society takes part in. It helps reverse the stereotype that people with disabilities are powerless into the belief that they are powerful and capable of setting high goals and achieving them. What is most incredible about Able Flight is the relentless faith and support not only from the board but also from the other pilots who have succeeded in the program. The camaraderie is exceptional. Thank you Able Flight for helping me make history as the first licensed pilot to fly with only her feet!"
Kevin Crombie once attempted to fly by tying a rope to his wheelchair, throwing the rope over a high barn rafter and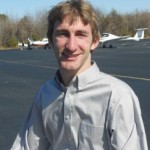 then tying the other end to the rear of a lawn tractor. When his friend put the tractor in gear and drove off, up went Kevin. It's a story his mom likes to tell because it says a lot about the young man who was paralyzed by the effects of a childhood virus. Kevin is now a college student, the co-founder of a wheelchair rugby league in Virgina, and as of June 2011, a licensed pilot.
Kevin grew up with a father who flew for a living until he left that career to become a police officer. But before his dad left flying, Kevin had his first flights, flights that left him longing to become a pilot. During the Able Flight/Purdue University joint flight training program in 2011, Kevin was the first of the four students to complete training and pass his check ride. Since then he has moved to Lafayette, Indiana to study there while preparing to enroll in Purdue's aviation studies program.
Korel Cudmore has a long list of goals. She can already place a check mark beside graduate high school at the top of her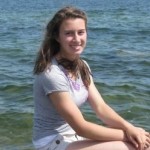 class and swim with dolphins, and now she can ad "become a pilot" to her list of accomplishments. Born deaf, Korel "learned at a very young age that if I wanted something in life, then I had to fight for it", and that's an attitude that has served her well in endeavors others might have viewed as unrealistic for someone who can't hear.
She's been a cheerleader and was chosen as captain of her squad, and she an avid ballroom dancer. For activities that seem to depend so much on the ability to discern sound, Korel has found a  solution of her own. And so it was when she learned to fly at Purdue University in Summer 2011. With her excellent lip reading skills, clever use of hand signals and written communication, she excelled in both flight and ground school training, becoming the fifth woman to earn a license with an Able Flight Scholarship.
Kirk Fjetland of New Brighton, MN is a Navy veteran who has become disabled due to degenerative disk disease. He was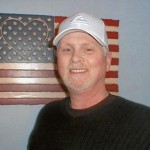 selected as Able Flight's first winner of a "Flight Training Challenge Scholarship". For years he has had to deal with the physical limitations and pain that are the result of the disease, but even so he sought another challenge, that of learning to fly.
In his scholarship application, he wrote that, "Becoming a pilot has been a dream of mine for as long as I can remember. Recalling that dream has saved my life…It was like I had been reborn."   After passing his ground school exam in the summer of 2008, Kirk trained at an airport to the south of  his Minneapolis area home, and hopes to continue that training to be able to  share his flying skills with his wife and five children, including several children who have followed him by serving in the military.
Robert Freund is a former Air Force and airline pilot who had logged  more than 10,000 hours when he became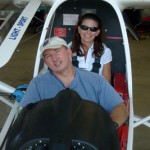 paralyzed due to a water skiing accident in  May of 2005.  The man who had built a career in aviation was now forced to look for another way to support his young family, and after his rehabilitation, Robert returned to school and is now enrolled in a graduate school program.   Before his injury, he had  planned to take his young son for flights in a small plane,  but after the loss of his ability to fly, the thought  was so difficult to bear that he refused to even look up when a plane passed overhead.  That is until he heard about Able Flight, and signed his application  form on New Year's Day of 2008.
He was awarded an Able Flight "Return To Flight Scholarship" , and just a few months later, Robert "Sig" Freund trained with Matt Hansen of Hansen Air Group. He immediately and easily adapted to the special controls on the Sky Arrow, and is now flying again. Shortly after returning to aviation, Sig was once again carrying a passenger, this time, his wife Jan.
Stephany Glassing is a woman who has always welcomed a challenge. With more than two decades behind her since an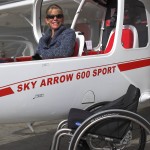 automobile accident left her paralyzed as a teenager, Stephany has sought to challenge herself, and by succeeding, to set an example for others who must face the effects of catastrophic injury or illness. She began by earning an education and working to support herself, has served as a peer counselor at Shepherd Center, and became a world-class athlete in the sport of water skiing as a "sit skier". But Stephany is quick to say that her greatest achievement has been to raise a bright and hard-working daughter who is now a college student.
According to Stephany, "After being interviewed for the Able Flight Scholarship all I could think about was flying! I've known that I've always wanted to learn how to fly, but the reality of how much I wanted this didn't hit me until I had the opportunity to go up and feel the experience first hand! Throughout my journey, I've been able to look back and see stepping stones of events unfold in my life, not always understanding things in the present, but knowing that the mystery would unfold someday. Able Flight is allowing me to still fulfill dreams after being in a chair for 22 years!"
Ken Hendrickson was a Seabee in the United States Navy Reserves and, in 2006, he was nearing the end of his service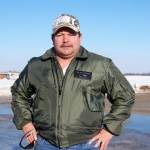 career. No one would have faulted the 47 year-old for passing on going to Iraq, but Hendrickson who had served on aircraft carriers in the 1980s, saw it as his responsibility and volunteered for a tour of duty during a time of heavy conflict. In June of 2006, while serving as a gunner in a Humvee, the blast of an IED ejected him from the vehicle and he landed many yards away. Ken suffered severe physical damage, with numerous internal injuries and broken bones in his back, pelvis, legs and feet. His treatment required a hospital stay of six months and thirteen surgeries, and he is continuing to receive physical therapy rehabilitation.
Even with these challenges, his spirit has remained strong, and in his scholarship application he wrote, "It would have been very easy to sit home and feel sorry for myself and get depressed. But I have a zest for life and for living. I have to constantly challenge myself to overcome these difficulties. Obtaining a pilot's license would prove to be the ultimate challenge, both physically and mentally." Ken trained in Minnesota in January of 2009. Ken's scholarship was supported through the generous donations of the East Cooper Pilots Association of Mt. Pleasant, SC.
Brandy Hofstetter was only 17 months-old when she was paralyzed in a car crash, and that accident and the trauma to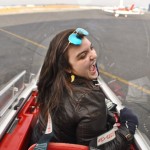 her young body could have defined her life. But she never let that happen. She's ambitious and driven to live a full life; no matter the challenges she may face. And now that includes having mastered the physical challenge of learning to fly an airplane with hand controls. In 2010 she began her training at Philly Sport Pilot in the adapted Sky Arrow 600 LSA and passed her check ride after only 34 flight hours.
When she passed her check ride in early January of 2011, she also became the fourth woman to earn a pilot certificate with an Able Flight Scholarship. To celebrate her remarkable achievement, the day after her flight test she took her mother and a friend on flights as her first passengers.
Eric Ingram loves the study of physics, wheelchair rugby, Jiu-Jitsu, and he loves flying.  His passion for wheelchair rugby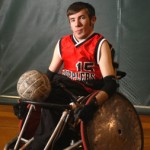 and Jiu-Jitsu come from his highly competitive nature, and it's likely his interest in physics and aviation were passed down from a grandfather with a fifty-year career in aeronautical engineering, both at NASA and the famed Lockheed Skunk Works.
Eric has used a wheelchair since soon after he was born with a rare genetic disorder. Evenwith a strong academic career underway as a physics student at Old Dominion University, he still made time to co-found a  very successful wheelchair rugby league with close friend and fellow Able Flight pilot Kevin Crombie . When Ingram discovered that Crombie has been selected for an Able Flight Scholarship, he also applied and was selected to attend training at Purdue. In June of 2011 he passed his check ride to become a licensed pilot. Looking ahead Eric plans to complete his undergraduate studies and then begin graduate work for a degree in astrophysics.
Jacob Jeter comes from a family of pilots. Hisgrandfather flew B-17s in World War II, and his dad Jim served 20 years in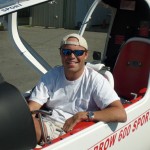 the Navy as an A-4 Skyhawk pilot before a career flying for Southwest Airlines. When his dad was stationed in Hawaii at Pearl Harbor, four year-old Jacob had his first flight with his father in a sailplane, and it wasn't long before he planned on following in the family tradition by becoming a pilot; a plan that changed when he became paralyzed in a diving accident. The accident caused an injury to his spine that left Jake classified as a quadriplegic, but with use of his arms, wrists and hands.
In his application, Jacob wrote: "This scholarship would give me a chance again to succeed at something I cherish so much in life. I can't tell you how much I want that feeling again."  Jake's wish was granted when he began training at Hansen Air Group of Kennesaw, GA in May of 2008, soloing only a week after he started, and finishing his training and earning his pilot certificate in an astounding three weeks, the shortest timeline of any scholarship winner to date. In 2011 Jake graduated from law school at Auburn University in Alabama.
Brad Jones became paralyzed in an automobile accident in June of 2006, and since then has been working to rebuild his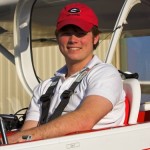 life through regular therapy, and with the support of family and friends. For Brad, a major milestone  was achieved when he  graduated with an engineering degree from Georgia Southern University. But there was one dream he thought was lost after his accident. Having deferred his goal of learning to fly until he had paid for college, Brad had given up his dream of becoming a pilot until a staff member at Shepherd Center told him about Able Flight.
Of being awarded his Able Flight scholarship, Brad said: "Being in a chair instantaneously makes everyday life and events challenging. The challenge of learning to fly will be a difficult one, but upon successfully completing the training, will bring a renewed sense that anything is possible, no matter what other challenges life might have for me in the future."
In June of 2007 Brad became the first Able Flight Scholarship recipient to earn a pilot certificate, and in July of 2008, along with Sean O'Donnell, he was a pilot in the 1000-mile, seven-city Ability Barnstorming Tour that traveled from Atlanta to Oshkosh, Wisconsin. Brad now works for a civil engineering firm in Georgia.
Ryan Kelly was a Staff Sergeant in the Army Reserves in July of 2003 in Ramadi, Iraq when he lost his right leg below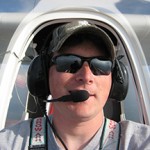 the knee in an IED attack. After being awarded a Bronze Star with Valor Device, this young man who had previously dreamed of becoming a helicopter pilot faced days filled with rehab and doubts about his future. Then he learned that even with a prosthetic leg, it was possible to qualify for civilian helicopter flight training.
He was accepted at Embry Riddle University in Arizona where he would not only graduate cum laude, but would earn his certificate as a helicopter pilot. He followed that by becoming a helicopter instructor, and with his Able Flight scholarship has now earned his fixed wing license. He also plans to become an instructor in airplanes with a goal of teaching others with disabilities how to fly. Ryan  was the first Able Flight Scholarship winner to be trained at Philly Sport Pilot, a new training operation established by Able Flight graduate Sean O'Donnell of Philadelphia, and the first wounded veteran scholarship winner to earn a license. Ryan's scholarship was funded through the generous support of the East Cooper Pilot's Association of Mt. Pleasant, SC in honor of their friend Colonel Woody Faison. Ryan is now flying a medical rescue helicopter in Texas.
Paul Lampasso was a New York City firefighter serving on limited duty to an injury sustained while fighting a blaze, when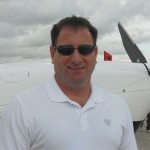 on the morning of 9/11, his brother called to let him know he was  on the way to pick him up. Together they volunteered to work the site of the fallen towers, and in the process, Paul aggravated the leg injury. Months later he would  be forced to medically retire, and with that would come the end of his second chosen career.
His first choice, becoming an airline pilot, ended very early when he discovered he had cancer while a student at Embry Riddle. Once the cancer was in remission and his long term prospects looked good, he still knew that he'd always fight an uphill battle for medical approval, so he followed the lead of his brother and joined the fire department. But early in 2011 he was chosen as the first recipient of an Able Flight Career Training Scholarship, and in June Paul became a Light Sport Repairman with Maintenance rating. With that rating, not only can he return to aviation, Paul also takes pride in being able to work again to support his family.
Rob Laurent was serving as a Tank Armor Crewman when he was severely injured during an IED ambush near Samarra,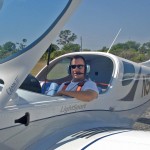 Iraq on Christmas Eve, 2004. Evacuated first to Germany and then to Walter Reed Army Medical Center, Rob lost an eye and suffered a partially amputated left hand as the result of the explosion. Now medically retired from the Army, he credits his unusually short stay at Walter Reed to the excellent care he received there. Rob was encouraged to apply for an Able Flight scholarship by an outreach officer of the Wounded Warrior Project.  In 2008 he graduated from the Criminal Justice program at Texas State University, and has earned a  master's degree. Ron now works as a contractor on military projects.
Rob completed his flight training in Florida in May of  2009, passing his check ride to become a licensed pilot. Now, he looks forward to being able to "show others in similar situations that through hard work and opportunity we can do things that we, or others, thought we could never do."
Booker Linkhorn, Jr has never let the effects of Cerebral Palsy keep him from following his dream of being the first of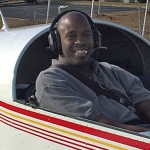 the 14 children in his family to graduate from college, or  his dream of learning how to fly. Even though the illness left him with very limited use of his right arm and hand, he became a percussionist in his high school concert and marching bands, and later earned a band scholarship to attend Texas Southern University where he graduated with a degree in telecommunications.
Though he faced significant challenges in his quest to become a pilot, he has become an avid participant in the Atlanta-based ACE program (Aviation Career Enrichment) where he serves as an assistant ground school instructor for new students entering the program. Booker was awarded an Able Flight Scholarship and completed the first portion of his training at an Atlanta area flight school. With the availability of a new training airplane at an airport closer to his home, he'll soon be working on the completion of his training
Jeremy Maddox passed his checkride on Thursday, March 5th 2009,  one year from the day when he mailed his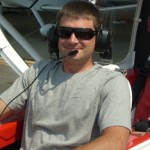 application for an Able Flight Scholarship. And when Designated Pilot Examiner Ben Methvin, Jr. signed the required documents, the Georgia resident became Able Flight's tenth scholarship winner to earn a pilot certificate. Jeremy, who uses a wheelchair due to a spinal cord injury, and whose scholarship was supported by a grant from the Christopher and Dana Reeve Foundation, trained in an adapted Sky Arrow 600 with instructor Matt Hansen of Hansen Air Group in Kennesaw, Georgia just northeast of Atlanta. The 27-year-old quickly adapted to the unique hand controls on the Sky Arrow, soloing after only 11 hours, and earning his license with a total of 37 hours in his logbook.
With his pilot certificate in hand, and looking ahead to flights with friends and family, Jeremy thanked those who made it possible for him to have this "great opportunity". He said, "Able Flight enabled me to achieve this goal, broaden my horizons, and create some life-long friendships through the process."
Sean Colin O'Donnell of Philadelphia was a high school senior when a driver pulled in front of his motorcycle, causing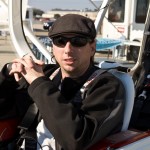 a collision that left him paralyzed. But the 17 year-old astounded his doctors and family by demanding that his rehabilitation period be cut short and that he be allowed to return to high school almost immediately. He graduated on time with his high school class, and went on to earn a degree from Villanova University. Since 2003, he has served as the Director of Distance Education at Villanova where he has established  a nationally-recognized, award-winning distance-learning program. In his application essay, Sean wrote: "I don't see the scholarship as the gift of flight; rather, I see it as the gift of opportunity: an opportunity to finally answer the call of a lifelong obsession…"
Sean participated in Able Flight's special Oshkosh training project in July of 2007, working with instructor Kate Bernard. Passing his checkride on the opening day of Airventure, Sean became Able Flight's second licensed pilot.  Later in 2007 he purchased an adapted Sky Arrow 600 LSA and opened Philly Sport Pilot, a flight training operation in the Philadelphia area. In 2008, he and  fellow Able Flight pilot Brad Jones were the pilots of the Ability Barnstorming Tour which covered seven cities in a week with an arrival in AeroShell Square on the opening day of AirVenture 2008. Later, training in his own plane, Sean earned his Private Pilot certificate, and he now serves as an Advisory Board Member for Able Flight.
Tyler Ryan was a senior in high school when on  October 9, 2006, he was paralyzed in a motorcycle accident.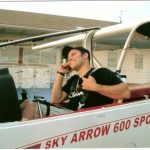 Determined to graduate on time with his class, he soon continued his studies and received his high school diploma in June of 2007. Later that year he applied for an Able Flight Scholarship and was selected as the first recipient of the Jet Aviation Scholarship. He received his award at a special ceremony held at Jet Aviations's facility in Teterboro, New Jersey.
In May of 2008, after completing his freshman year of college, Tyler traveled to Philadelphia where he lived  on his own for the first time while training at Philly Sport Pilot, the flight training operation created by Able Flight scholarship winner Sean O'Donnell. Just a few weeks after he arrived, and with his mother in town for a visit, Tyler soloed in the Sky Arrow. With only a little over a month of flight training, he passed his checkride to become Able Flight's youngest scholarship recipient to date to earn a pilot certificate. After his flight training Tyler returned to New York where he is enrolled in an aerospace training program, with a goal of becoming an air traffic controller.
Jessica Scharle was born with a condition that fused nearly every joint in her body into almost total immobility. That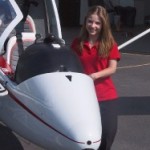 meant that Jessica Scharle would never have the luxury of an easy pathway to achieving her goals. But even as a very young child in North Carolina, she began to display a will and resolve that soon had her parents wondering if the dire predictions of doctors might be wrong after all. Now, after teaching herself how to navigate her way through life, she has once again proven that her disability is no match for her determination. On May 31st 2008, Jessica Scharle earned the distinction of becoming the first female Able Flight Scholarship winner to complete training and earn a Sport Pilot certificate.
She says that, "To get a pilot certificate, it takes almost every resource the body and mind has to offer: sight, smell, hearing, touch, muscle memory, muscle power, multitasking, working efficiently, quick thinking, faith in one's abilities, keeping cool under pressure, focus, physical as well as mental endurance, research skills, math skills, organization skills, communication skills, situational awareness, willingness to take on the large responsibility of operating an aircraft, thinking ahead as well as monitoring the present and. . . I could go on and on…and the cool thing is many of these new skills are transferable to life in general." In 2011, Jessica studied to become a ground school instructor and  passed the exam qualifying her to teach others for the knowledge  requirements of leaning to fly.
Heather Schultz sustained a C5 spinal cord injury in a diving accident in 2006. After nearly drowning in the accident,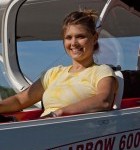 she faced years of physical therapy and has defied the predictions of doctors who had told her she would never walk again.  In 2010 she was selected to particpate in Able Flight's first joint training project with  the Department of Aviation Technology at Purdue University. Heather trained there during the summer with university instructors while living in university housing, earing her Sport Pilot Certificate and helping prove the value of the program with Purdue.
The training at Purdue marked Heather's first real travel on her own since her injury, and was soon followed by a trip to EAA AirVenture in Oshkosh where she received her Able Flight Wings in a special ceremony. Heather's training was made possible through her selection as the 2010 recipient of the "Jet Aviation Scholarship".
In 2011, along with Sean O'Donnell, Heather created Freedom Flight 2011, a  successful program to help make it possible for wounded veterans to become pilots through Able Flight scholarships.
Chris Spaur is a 21 year-old Californian with muscular dystrophy. He's one of triplets, and shares the condition with a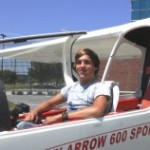 sister.  Coming from a family of pilots, Chris wanted to follow in his mother Susan's footsteps. Susan had been a pilot for American Eagle before leaving airline flying to raise the triplets.  His uncle, also a pilot, had urged Chris to pursue  learning to fly, and Chris applied for a scholarship and was selected to take part in Able Flight's  2010 training project with Purdue Universtiy's Department of Aviation Technology.There he earned his Sport Pilot Certificate in just over four weeks. Now he has plans to continue on to a Private Pilot Certificate.
Chris was selected by Able Flight as the recipient of Able Flight's "Bombardier Scholarship" for 2010, and at EAA AirVenture 2010, Matt Brandon of Bombardier was on hand to honor Chris and  take part in a ceremony in which Chris received his Able Flight Wings from his mother Susan. In 2011, and on his own initiative, Chris traveled east and continued his training at Sean O'Donnell's Philly Sport Pilot where he earned his Private Pilot certificate.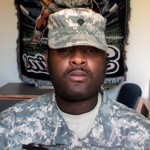 SPC Jermaine Strachan was wounded twice in Iraq while serving with the 10th Mountain Division. The two Purple Hearts he received signified his country's recognition of his service and sacrifice, but they also foretold the end of his military career. And for a soldier who had enlisted right out of high school and planned a full career in the Army until retirement, that was a huge setback. Not only had he wanted to stay in the Army, he'd been hoping for the opportunity to enter training as a helicopter pilot. With his combat injuries, both of those dreams died.
As he worked his way through rehab at Walter Reed he served as an intern with the "Paws For Purple Hearts" program, helping to train service dogs for wounded vets. It was at Walter Reed that he learned of Able Flight and quickly applied, hoping to revive his dream of learning to fly. Jermaine was awarded a scholarship and soon left to take part in the intensive Able Flight/Purdue flight training program, and in July of 2011, earned his pilot's certificate.  With the world of aviation opening to him, and with new friends and contacts in the flying community, Jermaine is eagerly exploring continued education opportunities that will allow him to make aviation his career.
Jorge Urrea was paralyzed in a motor vehicle accident in his native Columbia in 1992, and along with his family, the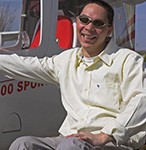 young architect moved to the United States to seek more advanced rehabilitative care and employment opportunities than existed at that time for people with disabilities in Columbia.  The Georgia resident is well known for his hundreds of hours of volunteer service at Atlanta's Shepherd Center, where he assists families of patients by designing modifications to their homes to better serve those with paralysis.
Having dreamed of becoming a pilot since his childhood, Jorge was not aware of the possibility  for a paraplegic to earn a license until a therapist at Shepherd Center told him about  Able Flight's unique flight training scholarships. He quickly applied and  was granted a scholarship in 2007. He began his training later that year, flying with instructors Mike Davidson, Matt Hansen and Mitch Hansen. In February of 2008, Jorge became Able Flight's third licensed pilot, saying, "If you fight for your dreams no matter how long, those dreams can become a reality."
Matthew Wells had already earned a Private Pilot certificate and purchased his own used, but well-loved Piper

Cherokee when a November of 2003 auto accident caused a spinal cord injury that left him paralyzed. He soon realized he'd have to sell his airplane to help pay for mounting medical bills. Following a long rehabilitation, Matthew  looked to the future by enrolling in an aerospace training program at Middle Tennessee State University, and  was later was selected as Able Flight's first recipient of a "Return to Flight Scholarship".
Matthew traveled to Atlanta for training in the adapted Sky Arrow 600 LSA and  then returned to Tennessee to complete his college education. He plans to make a career in aviation, and is looking forward to returning to Atlanta for additional training and checkouts in other models of adapted aircraft soon to be available.
Mallory "Mal" Zackery was working as a district manager in  Alabama in October of 2007 when a robber shot him as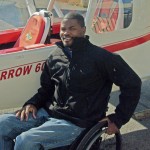 Zackery was making a night deposit. Paralyzed from the wound,  the Georgia native returned home where he received rehabilitation care at Shepherd Center in Atlanta. It was there that he heard about Able Flight and applied for a full scholarship.  He began training with Matt Hansen of Hansen Air Group in Spring 2008, and soloed on  April 30th.
He calls flying "the complete expression of mobility in its truest form", and that he has "a desire to rise again, to do all the things I never thought were possible. Learning how to fly an airplane will prove to me, and others, that this is not the end, that I don't simply have to be 'that person in a wheelchair'…that I can continue to live and learn, to grow and mature."
Mal's scholarship was supported through a generous donation from the TBM Owner Pilots Association Foundation. On July 13, 2009 he passed his checkride to become the 12th scholarship winner to earn his pilot certificate, and now hopes to enroll in an air traffic control training program.