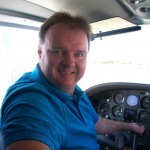 In April, Randy Green passed a check ride to earn his Air Transport Rating, the highest level a pilot can achieve. And though it's a select group of those who have reached this status, it's not rare. Except for a man born without hands or feet.
Randy's remarkable aviation career began when his pilot father bought an Ercoupe so that his sons could learn to fly. He earned his Private certificate in 1994 and quickly followed with Instrument, Commercial and Flight Instructor ratings. In his first year of instructing he logged over 1000 hours teaching others to fly. Using no special prosthetic devices on his arms to help him manipulate the controls, he continued to add to his ratings becoming qualified to both fly and instruct in twin-engine aircraft. And of course,  to fly as a Commercial pilot, Randy needed a second class medical and several Statement of Demonstrated Ability (SODA) flights with the FAA to prove he could safely operate all controls on various airplanes.
From the beginning, Randy's goal wasn't to fly an airliner, he wanted to be a corporate pilot, and he followed his plan of building hours and ratings until he was a good candidate for a job transporting company executives and their customers.  But even with his accomplishments and obvious qualifications, he faced a multitude of challenges and denials until  landing that first job; when a company took a leap of faith that was well-rewarded. And when that business sold their plane, he soon found another job flying a Cessna 421 twin for a Missouri company.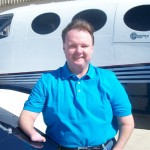 Randy knew that to move up in business aviation he would need an ATP rating. Enter Able Flight. With his Able Flight Career Training Scholarship,  in late April of 2015 Randy Green completed training at a Texas flight school and passed yet another flight test, and has now accepted a new position flying for an Idaho-based business.  That means a move for Randy, his wife and two young children; a move they are willing to make to continue his dream of using his aviation career to provide for his family.
Randy's story of success is a testament to a father who knew what his son was capable of , and to a son who believed in himself.  Congratulations to our newest Able Flight pilot, Randy Green.