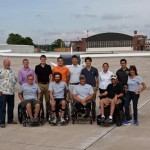 Able Flight has been selected as the 2014 recipient of the Flying Magazine Editors' Choice Award to honor an aviation nonprofit.
In their announcement, the magazine wrote: "There is no shortage of organizations using general aviation to effect positive change in the world, and the many that do so on an everyday basis in places near and far serve as a continual testament to the power and generosity of this great community of fliers and flying enthusiasts. While there are countless aviation charities that deserve recognition, we are proud to award Flying's 2014 Editors' Choice Award to Able Flight, an organization that helps disabled individuals pursue aviation training and in the process enjoy the life-changing challenges and fulfillment that come along with it."
"We are honored to be selected to receive the Flying Magazine Editors' Choice Award", said Charles Stites of Able Flight. "There are a number of great aviation nonprofits doing outstanding work, and this award signifies that Able Flight  is recognized as not only fulfilling its mission of using the power of aviation to change lives, but  consistently doing so at the highest level. Those who deserve credit for this honor include our pilots who work so hard to prove their abilities, the flight instructors and our friends at  Purdue University who welcome and teach our pilots, and the sponsors and donors whose generous support make it all possible."
To read more about the award, visit here.