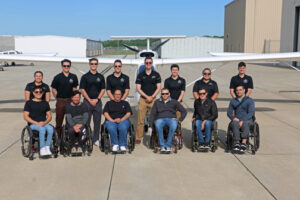 As the end of 2022 approached, we looked back to see how well we met our goals. That's something we do not only to gauge our effectiveness in meeting our mission, but to help us prepare for 2023:  what did we do well, and what can we do better?
To understand how effective our program was in 2022, it's helpful to start with the basic numbers, and then to look deeper into how those achievements translate into real change in the lives of those served by Able Flight.
When we planned for 2022, our goal was to award eight scholarships, and that's exactly what we did. We accomplished this with the help of  outstanding partners, supporters, and friends, and now we're looking ahead to even greater success in 2023.